Ursula Bonadeo
Biographical information
Time period

Italian Renaissance

Political information
Affiliations

House of Bonadeo

Actor

Ruta Gedmintas
Ursula Bonadeo is a minor character in The Borgias, a love interest of Cesare. She is first presented at Lucrezia's wedding and that's where she meets Cesare. She is a married woman, however, it appears that she's fairly happy by her husband's side. After his death she becomes a nun known as sister Martha.
Appearance
Edit
Ursula had long, blond hair parted in the middle, blue eyes, pale complexion, and a slim figure. As an upper class lady, she often wears fancy dresses with rich embroidery. After becoming a nun, she had her hair cut short and puts on a habit.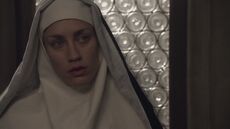 Personality
Edit
Ursula appears to be a warm and kind-hearted person, often helping the poor. Due to her difficult married life she gets into an affair with Cesare. After her husband's death she has great pangs of conscience, which push her to the decision of becoming a nun - a punishment for her unfaithfulness.